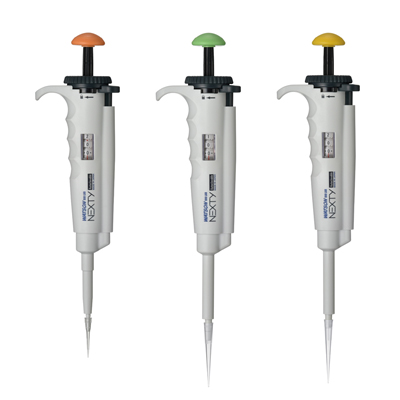 WATSON'S dynamic pipettor range now features models which are completely autoclavable. These models can be placed inside an autoclave for 20 minutes at 121°C for full body sterilization. These new models have all the features seen on the original NEXTY pipettor range, just now with a more heat intensive safe body.
Fully autoclavable body (Can be sterilized for 20 minutes @ 121°C)
Easily recognizable push button color codes.
The lower portion of the pipettor can be autoclaved.
Convenient short design, easy to handle.
Made of Tough and durable material.
Uniquely designed to fit comfortably in your hand.
Supplied with a FREE bag of pipette tips.

TRIPLE SPEED TURBO DIAL
Speedy in Volume Setting
- 1 rotation of triple turbo dial is equal to 3.5 rotations of the push-button dial
- Easy handling operation with only one hand
- Very convenient when making large volume changes

MUSHROOM SHAPED PUSH-BUTTON
Easy to Use - Large Push-button
- The unique mushroom shaped design reduces repetitive stress on the thumb
- A New spring system means an extremely light stroke is required to use the pipettor
- Precise Volume Setting Dial for the minimum scale unit (1/1000)

EJECTOR BUTTON
- Our uniquely shaped ejector button reduces the stress on your thumb.

LEVER LOCK
- When locked it prevents the dial from rotating and eliminates volume selection errors

STRICT QUALITY CONTROL
- Quality inspection of every unit is performed in a dedicated controlled environment according to ISO8655 standards.

TIPS & ACCESSORIES
- Thin wall moulded pipette tips and pipette rack available.
View the full range by following this link: http://www.labdirect.com.au/equipment/liquid-handl...
Recent Posts
Socorex 520 Calibrex Bottle Top Dispensers are the perfect option for quick and accurate Methadon …

Today, Australian farmers face the driest conditions in 100 years. Government figures show 99% of Ne …